Wedding seasons are all about beautiful dresses and fun. This occasion gives you the opportunity to wear beautiful traditional dresses and some amazing accessories. Indian weddings and festivals are some of the occasions where you can flaunt your traditional looks in a best way. One of the most admired outfits that is worn at weddings is a beautiful and gorgeous saree. The attire comes in many different varieties and fabrics. Some of the most adoring fabrics that are used in sarees are georgette, chiffon, silk, rayon and many more. The outfit is also made by combining two fabrics so that it gives a more comfortable feel to the wearer. 
You can add different types of sarees in the list of your wedding clothes and wear them according to the types of function you are going to attend. Buying wholesale sarees is a best option as you have to buy many sarees for this season. Buying it online is a great option to get it at a wholesale and affordable rate.      
The Lehenga Saree
It is difficult to choose among a beautiful lehenga or a stunning saree. So why don't choose both. Yes, you can choose something that gives you a ravishing look. You can choose to wear a beautiful lehenga saree that is very easy to wear and comfortable to manage. You don't need to waste your time in making plates of the saree, Just wrap the lehenga that has no pleats but some beautiful details on it and tuck the pallu for a complete saree look. This graceful outfit with a flared lehenga and saree pallu is such an attractive outfit.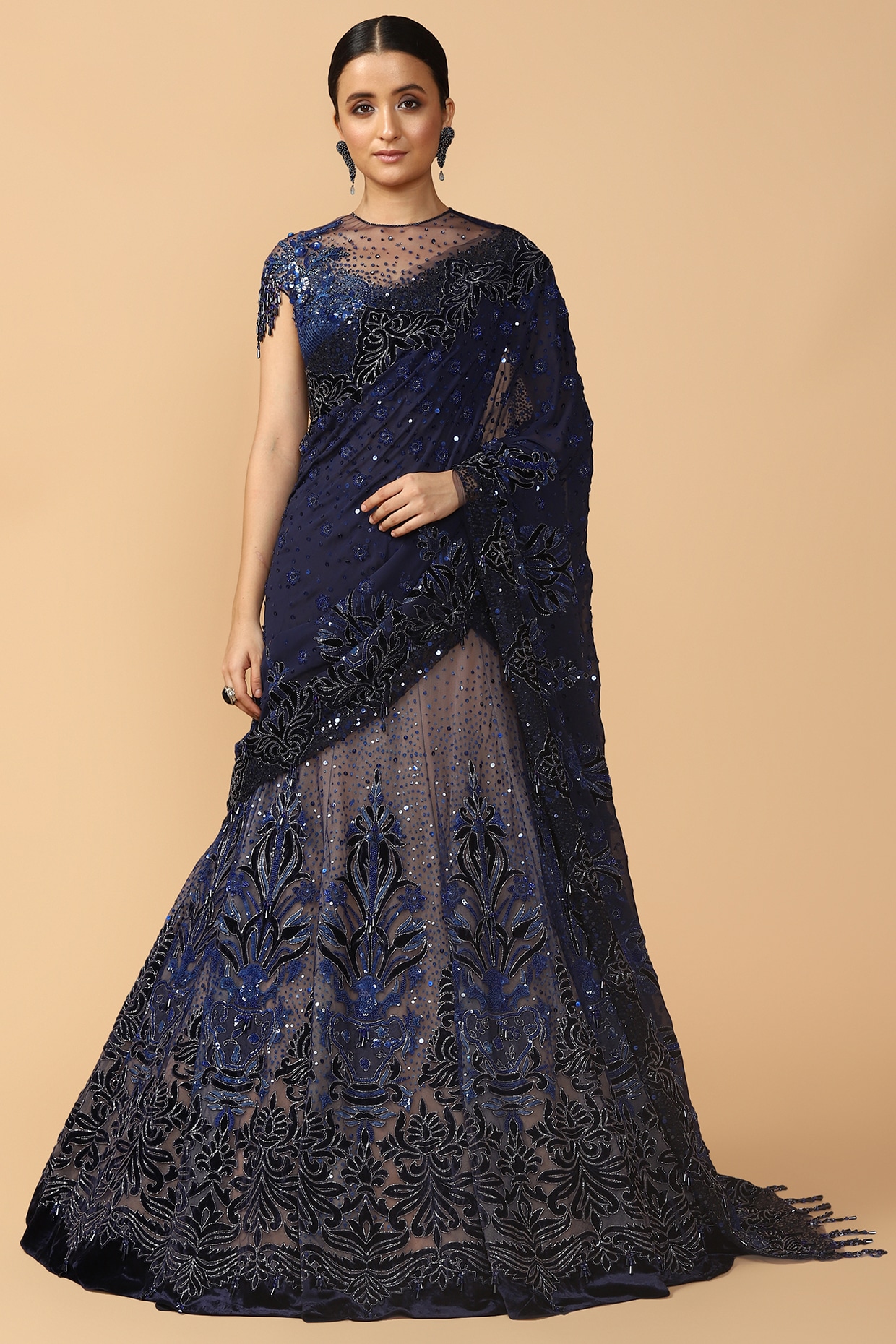 You have to invest less time while wearing this outfit as you do not have to do the messy work of making pleats. The lehenga is detailed with some beautiful embellishments with the help of pearls, diamonds, stones and laces. The lehenga can be flared, straight, A-line or panelled and you can choose the one according to your choice. A beautiful designer blouse having some alluring details gives a perfect saree look to your attire.
A Beautiful Ruffle Saree
Get a drastic wedding look by wearing a beautiful ruffle saree at wedding functions. The saree is super stylish and has a beautiful designer blouse that is detailed with some stunning patterns with stones, diamonds, pearls and other works such as thread work or zari work. Wearing this outfit at a reception party or any special event will get you thousands of compliments. The ruffle of the saree can be made with the matching cloth or a different contrast cloth can be used to make the ruffle for a more dignified look. 
This saree is also a ready made type of saree that does not have pleats. It has a belt at the waist and also a ready made pallu, you just have to tie the belt and hang the pallu on your shoulder. This will make you picture perfect and you will look super gorgeous by wearing this ruffle saree. Some amazing accessories such as rings, a pair of beautiful earrings, necklace and nose-ring will complete your wedding look.  
Gorgeous Semi-stitched Saree
A beautiful pre-stitched or semi-stitched saree in pastel colour or any other adoring colour. This outfit looks similar to the regular saree but it is more easy to wear this one. They have pre stitched pleats and pallu so that you don't have to waste your time in fixing them. If you are not so good at making pleats and wearing saree so this can be the best choice for you. It will also save your time if you are in a hurry. Pairing a heavily embellished blouse having an interesting neckline and beautiful sleeve pattern will give you a more glamorous look. The blouse can be full sleeves or short sleeves with some beautiful works done on it. A bright coloured blouse paired with a pastel coloured saree or any other light colour saree. Wearing a beautiful pair of earrings and an amazing ring will give you a better traditional look. You can also add maang tikka with your attire to get a more stunning look. 
Silk Saree with Designer Blouse
A shimmery and shiny silk saree is the most admired outfit among every lady. The fabric is so rich and royal to wear that one cannot reject it at any cost. It is a natural protein fibre that is obtained from the cocoon of silkworms. It is one of the highly demanded fabrics that comes in major varieties and each variety has its own speciality. The famous Banarasi saree of Banaras, a beautiful Chanderi saree of Madhya Pradesh and Kanjeevaram saree all are just too awesome to handle. 
Silk sarees are worn at weddings and special functions. In Southern India silk sarees are the bridal dress of the bride. The golden and silver zari work of this saree makes it look very attractive and beautiful. Wearing different types of blouses and trying a pleated pallu looks amazing with this outfit. Some traditional accessories such as maang tikka, nosering, bangles and anklets are some perfect jewellery to add with this saree. 
Stunning Net Saree
A beautiful net saree is the best pick for a modern look. Some bright coloured or double coloured net sarees are a perfect pick for the wedding season. Net is a transparent fabric that is soft and comfortable to wear. The fabric can also be combined with other fabrics to make a more alluring saree. A beautiful net saree having a velvet pallu or a georgette saree having a net pallu is a good choice for any of the wedding functions. 
Net sarees are very famous among every lady and they have some beautiful details on them that makes it look more pretty. The saree is decorated with thread work, zari work or some other beautiful embellishments. Some beautiful motifs including flowers and leaves looks perfect on net saree. The attire can also be decorated with colourful stones, diamonds or white pearls to give it a heavy and royal look. Pair a matching blouse and you are ready for the function. Do not forget to wear beautiful heels with this outfit.